Technical history of the french artillery and its ammunition — 15th to the early 1900's.
This small study isn't only putting some emphasis on the artillery shells or projectiles in use through the centuries since it could give a false understanding of their evolution. I regarded as very important that a short history of artillery, albeit in French, precedes the study of the evolution of the artillery projectiles until the end of the XIXth century. Thus, it should rather be considered as a technological study of the evolution of the "great art of artillery".
Realizing a shortened synthesis of a decade of research in the domains of artillery and fortifications, the illustrations and documents are essentially issued from my privately owned collections.
Our secondary objective was to provide to the bibliophiles, as well those specializing in matters of artillery and fortifications, a selected critical (e.g. commented) bibliography counting several hundreds of references. The books are essentially ranging from the XVIth to the XXIth century but emphasizing on the publications between the XVIIth and the 1880's.
For these who aren't fluent in French, I wrote some short papers which can be accessed in the F.A.Q. chapter. Time permitting, there will be more !
Dr. Balliet J.M.
ObscureMyEmail1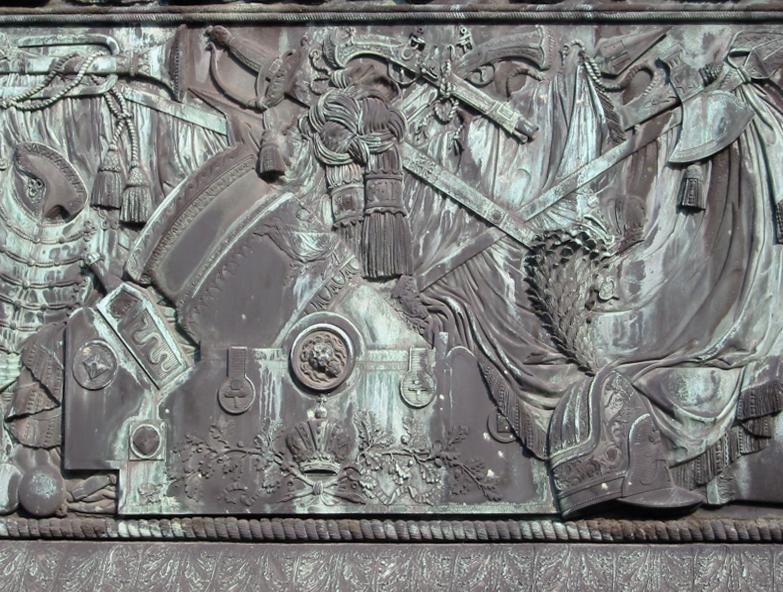 La colonne Vendôme est un monument parisien édifié sur ordre de l'Empereur pour commémorer la bataille d'Austerlitz. Si elle a connu antérieurement plusieurs dénominations —colonne d'Austerlitz, colonne de la Victoire, colonne de la Grande Armée — elle est désormais appelée colonne Vendôme.

Elle prend la forme d'une colonne en bronze de 44,3 m de haut et diamètre moyen de 3,60 m et se trouve surmontée par une statue de Napoléon Ier. Son fût est recouvert d'une chape coulée avec le bronze des canons pris aux armées russes et autrichiennes et décoré, à la manière antique alors très en vogue, de bas-reliefs représentant des trophées et des scènes de batailles qui s'enroulent en continu jusqu'au sommet.

C'est un mortier de siège — cliché de l'auteur, 2007 — qui trouve sa place dans un des bas-reliefs situé dans la partie inférieure de la colonne.